Please carefully read the preface. contains adults meterial.
Dressing style of Kerala Natives-A journey from History.-a study in detail.
I just trying to give a flash picture of dressing style of Kerala People from available photographs and drawings. Most of the photographs in the picture is from last Century and their authenticity is verified.
We do not know the common folk(Our forefathers) dressing style beyond 1500, but can be assumed with these pictures.
Join and like Face book link:
Kerala Old Photos And Heritage
Join
Kannur - Cannannur Walk
Please note before reading
:
UP TO 1860-ALL KERALA WOMEN EXCEPT MUSLIMS, CHRISTIANS AND BRAHMAN WOMEN NEVER WORE ANY DRESS TO COVER THE UPPER PART OF THE BODY.
click and read about kerala women's dress from Wikipedia:-->From Wikipedia, the free encyclopedia:->
http://en.wikipedia.org/wiki/Upper_cloth_controversy
http://en.wikipedia.org/wiki/Upper_cloth_controversy
A KERALA MAN AND WOMAN -PAINTED AROUND 1680 A.D.
originally published in Dutch by the trade diplomat Jan Nieuhoff,-(*
Nieuhof 1682
*)
A Malayalee model as Thampuratti wearing traditional mundu mulakkacha
The model dressed in old kerala style costumes like mundu mulakkacha
king of Cochin with Nair soldiers
The King of Cochin -1506-IN PROCESSION
[NAIR SOLDIER 1750]
NAIR SOLDIERS WITH SWATHI THIRUNAL MAHARAJA OF TRAVANCORE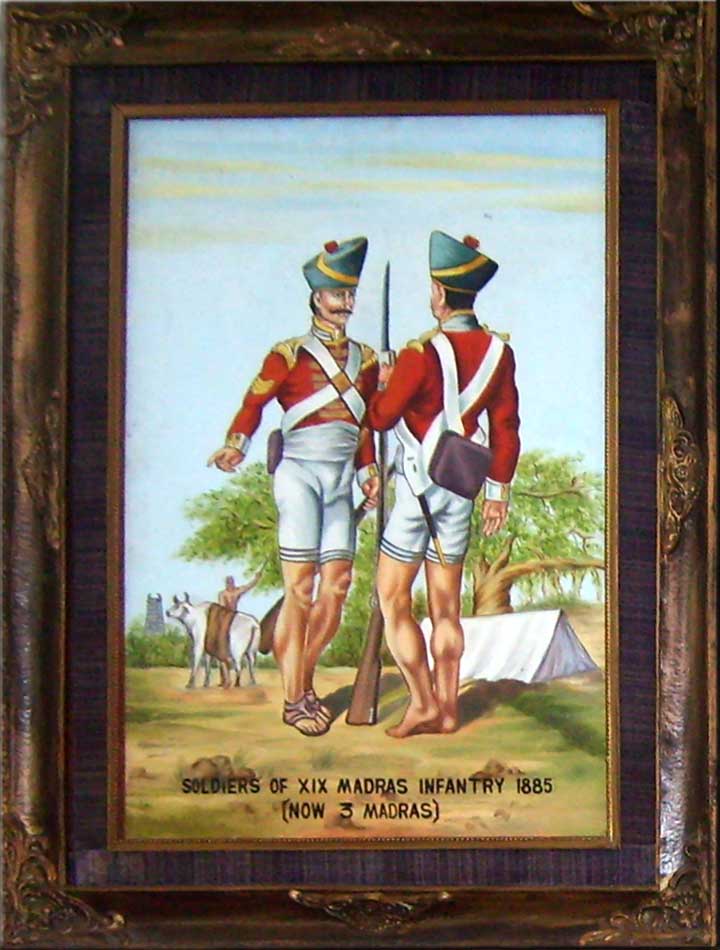 HINDUS
The Mannan people Natural History museum THIRUANANTHAPURAM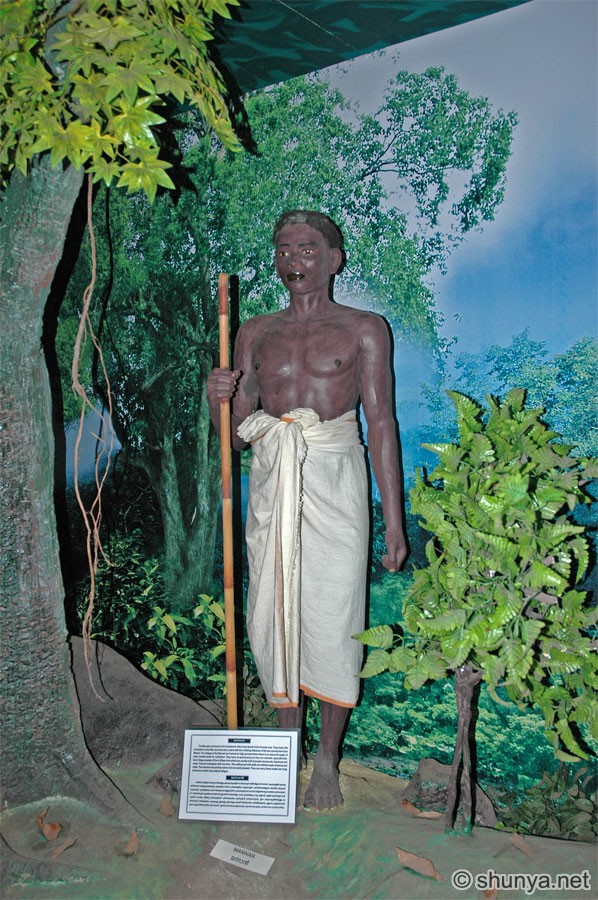 The Kannikar people Natural History museum THIRUANANTHAPURAM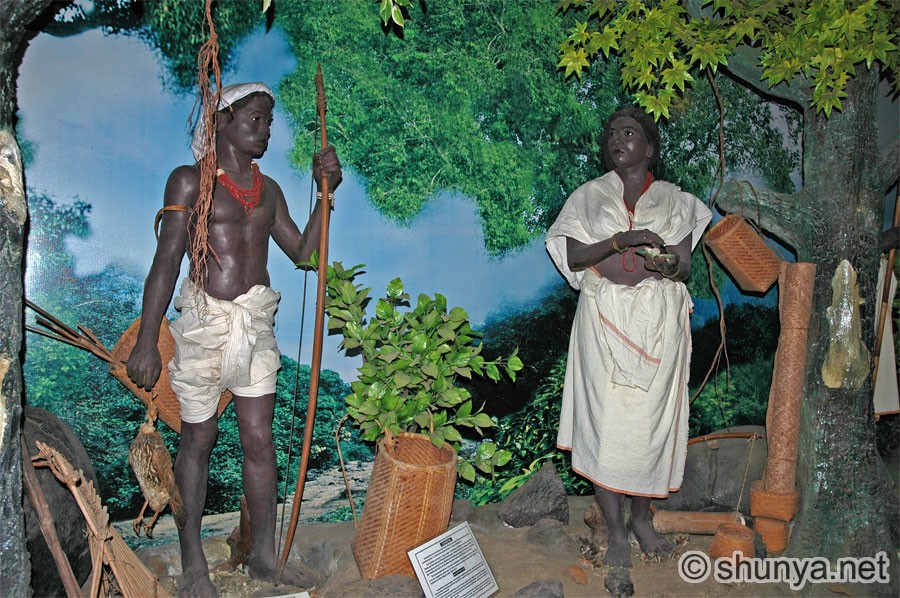 The Muthuvan people Natural History museum THIRUANANTHAPURAM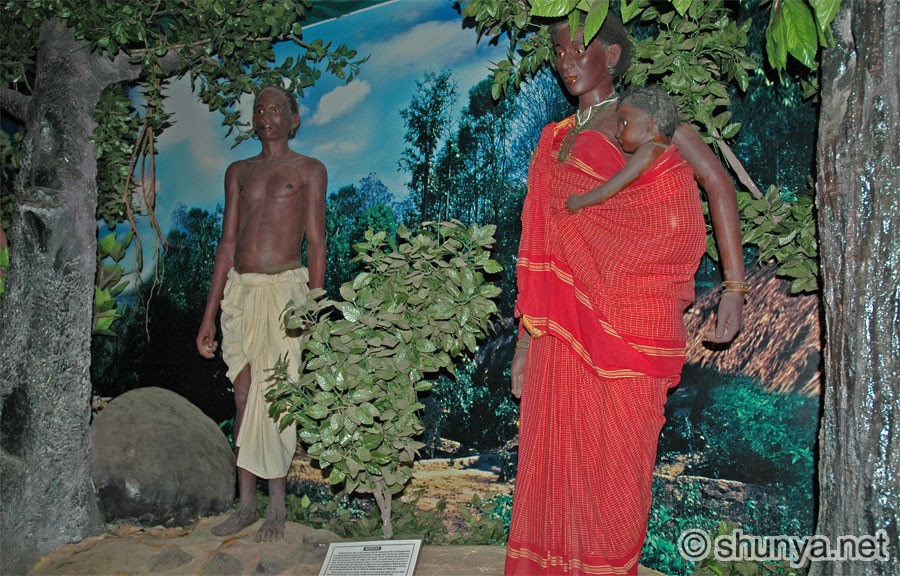 The Pulaya people Natural History museum Thiruananthapuram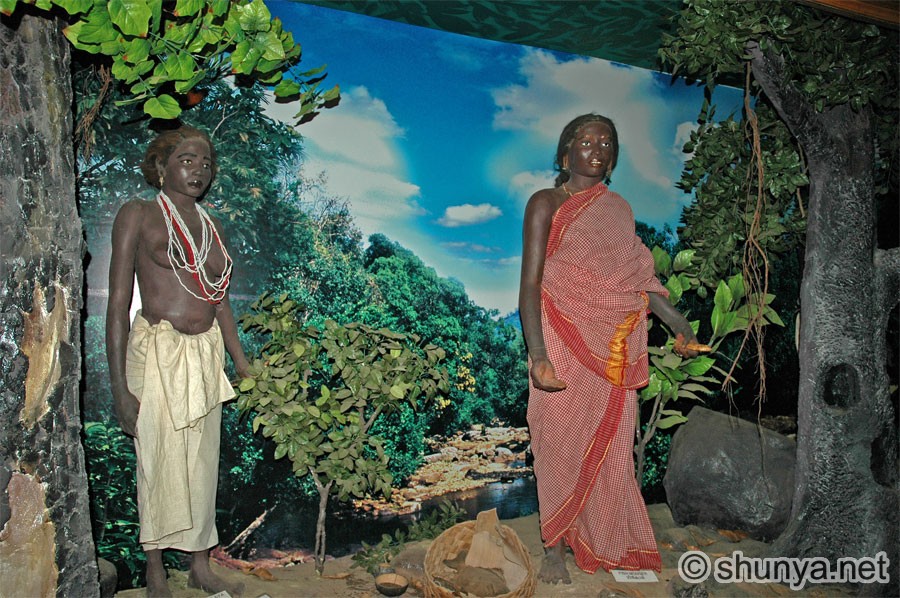 The Malapantram people Natural History museum Thiruvananthapuram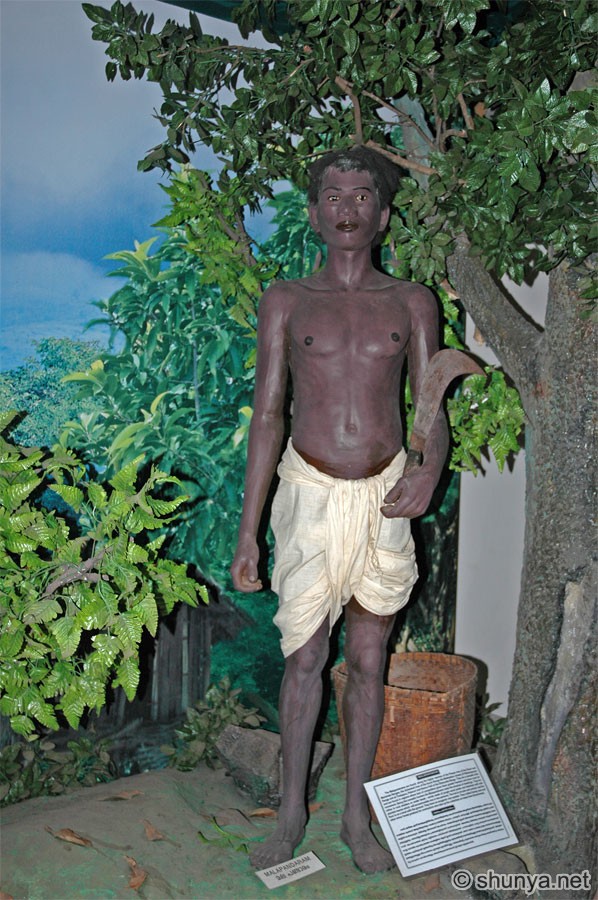 THE NAMBOODIRIS
The men wore a very simple dress that consisted of two pieces of unstitched white cloth. The men tied around the waist a loincloth called MUNDU measuring 2 ½ yards in length and 1 ½ yard in width. The second cloth was thrown over the shoulders called the MELMUNDU. KAUPINAM a strip of cloth was the underwear and was worn between the thighs, passed between the thighs and tucked into the front and back of a waist thread. While engaged in religious pursuits, the Namboothiri males dressed themselves in what is called TATTUDUKKUKA, i.e., a cloth six or seven feet long tied around the waist, passed between the thighs and tucked in at the front and back, with the front portion arranged in pleats. The Namboodiris's Mundu was always white in color like the other castes, but had a gold border that distinguished them from the other castes.. Many castes in old days apparently used to wear blue clothes, but white is now practically universal. The Namboodiri men wore a wooden slipper called METHIYYADI .
The Namboodiri women were seen in a dress called the PUDAVA, that was a cloth 7 ½ feet in length and about 2 feet in breadth. One end of the cloth was passed between the legs and fixed in the waist at the back, while the other end was wrapped around. This style was also known as TATTUDUKKUKA . The Namboothiri women traditionally used to cover the upper part of the body and carried an OLAKKUDA or MARAKKUDA to cover the face and the body.
Brahmin family in Kerala (1902)
Nayar, Kshtriya and Ambalavasi
Their traditional dress also consisted of Mundu, Kaupinam and a random mundu or Neriyatu ( an upper cloth). The women belonging to these communities used to wear a Pudava or Onnarramundu in Tattudukka style.
The upper part of the body was left bare. The Nayar women in Travancore were allowed to dress as they pleased by a Royal Proclamation in 1865.
Other Castes
Creator: unknown studio
Date:
NA , BEFORE 1930
In the olden days the Malayali as rule shaved his head, face and body all over leaving only a small oval patch of hair on the top of the head in front called 'KUDUMI' .This patch of hair was allowed to grow long and was twisted to a knot and hanged over the fore-head in front or to one side, usually the left. This way of wearing the hair was universal and was distinctive of the west coast Hindu.
Some of the CHERUMANS and similar low castes shaved their head completely and left no trace of any hair on their person.
The devil dancers and their likes in the ancient times wore the hair long; the hill tribes also used to wear their hair long but with the advent of civilization they too took to KUDUMI.
The Namboodiri was also seen with a beard, but the singular reason was that it was a period of mourning (diesta) for him . Other castes were also forbidden from shaving when in mourning.
Women grew their hair long. They used many natural herbs and oils available in the soil to nourish their hair. Women wore their hair plaited in the middle and either drew tight to the ears and tied in a chignon or else twisted up in front in a sort of cone. The latter was the common custom in the south, except among Namboodiris.


PART 2 AFTER & THEN A MIX of pictures upto 1950 and now.
ROAD SIDE VENDOR -KERALA -1940
TRIBES Dressing style before and around 1990.
There are different divisions of tribal people living in different parts of kerala. They differ both in their living and clothing habits.
In the past, the tribes like the Mala Arayan, Daliyan, and Malavedan
used to wear leafy garments. Koraga women believed that they pleased the Gods by using grass or leaf skirts. The usual attire of the hill tribes was a short loin cloth. The torso was kept uncovered. Later, a piece of cloth was used to cover the upper body.
The PANIYA Women wore a loin cloth reaching to the knee and another cloth over the chest.
The upper cloth was wound round the body under the shoulders. One corner of it was taken over the right shoulder from behind and tied to the top of the front portion over the breasts so that it did not slip down.
The KURICHIAN women
wore a traditional dress that consisted of a CACHALA (dhoti) up to the knees and Melkuttu a piece of cloth tied across the left shoulder to cover the breast.
The PALIYA women wore a Chela (color Red Sari)
Kurumar
KURUMAR KALI
The Kurumars, another category of tribal people wear a dress that covers the upper part of the body. They used a mundu known as the MADAKKUMUNDU which was tucked in the left and reached till the knees. Men used a towel known as 'Thambran Mundu'. On special occasions they used silver, Iron, bronze and gold ornaments.
Theinkurumar
These were the tribals from Kannur and Kasargod who dressed differently using tree-barks and leaves. Ladies used a handful of leaves in the front and back. They remained naked above their waist.
Mannanmar
They are seen not only in Kerala but also in Tamilnadu.They wore long Sarees called CHELLA with which they covered their breast. The gents used MUNDU. They wore lots of chains to adorn their necks. They wore bangles of copper and bronze and also ring of copper in their hand.
Yogis
The yogis are SHAIVAS who have come from Northern India to Southern India. Though they settled in North India, their main centers in the south are KASARGOD, Payyanur, Taliparambu, Azhikode, Badagara and Calicut. The men used a towel to dress themselves. The ladies covered their breast with the same towel that they wore on their person. For Pooja and other ceremonial occasions the Gurus wore silk dresses.
Adiyans
They are the main tribal community in Wyanad. Men covered themselves from the waist to knee with MUNDU. Ladies dressed themselves with a single saree. Men wore earrings called Mathavu in the lower ear and wore a heavy earring called 'KADUKKAN',. They had a practice of designing 'tattoo'.
Drastic changes have risen in these traditional dressing habits. No restrictions on wearing upper garments prevail now. The western cultural influence and contact brought much uniform pattern of dressing among these tribals.
MUTHUVAN TRIBE
MALAYAN TRIBE MALAYAN EXORCIST
KOYA TRIBE
CHOLA NAIKKAN TRIBE
Photos from 1850
NAIR-1900-1950 DRESS
PAINTING BY RAJA RAVI VARMA OF TRAVANCORE PRINCESS
CHENDA MELAM:
PEOPLE
Please note :
UP TO 1860-ALL KERALA WOMEN EXCEPT MUSLIMS, CHRISTIANS AND BRAHMAN WOMEN NEVER WORE ANY DRESS TO COVER THE UPPER PART OF THE BODY
click and read about kerala women's dress from Wikipedia:-->From Wikipedia, the free encyclopedia:->
http://en.wikipedia.org/wiki/Upper_cloth_controversy
http://en.wikipedia.org/wiki/Upper_cloth_controversy
pic taken by Travancore
Palace
Photographers at Vallarpadam Island-1900.[COVERING BREAST WITH A BLOUSE WAS NOT YET FASHION THEN]
Hindu Dress Styles of Earlier Times
Men were dressed in a hand-woven cotton cloth, called moondoo, and wore sandal pastes on their chests and brows. When going outside, they threw a smaller cloth over their shoulders.
Even now, men adopt the same style when at home. The hot climate makes this the most comfortable dress. On going out, however, they don a shirt, and the trouser replaces the moondoo in many cases.
The Mappilla men's ordinary dress was mundu or cloth generally with white or purple border or orange, green or plain white. It is tied on the left (Hindus tie it on the right) and kept in position by a waist string to which are attached one or more elassus( small cylinders) of gold, silver or baser metal, containing texts from the Koran or magic chants. They used shirt along with mundu. A small cap of white or white & black is very commonly worn and round this an ordinary turban or some bright coloured scarf may be tied. Mappillas shave their head clean. Beards are worn frequently especially by old people and "Tangals" (Religious person in Mosque). Hajis or men who have made their pilgrimage to Mecca and other holy men often dye the beard red.
NAIR CORPS [NAIR PATTALAM]
USUAL DRESS OF A KERALA MALE 1950
KING OF TRAVANCORE TAKING SALUTE
1950 PHOTO
1950 AGRICULTURE LABORERS
LEPERS AND BEGGARS -A COMMON SIGHT IN KERALA -THOSE DAYS
kerala teachers 1872
<
below- എഴുത്തുകളരി[writing in sand for poor children ;who cannot afford a palm leaf or paper notebook or slate]






ELECTIONEERING 1950



1950-WOMEN-MAN-POLICE

Mundum neriyathum is the traditional clothing of women in Kerala, South India. The mundum neryathum consists of two pieces of cloth: A mundu is a one-piece cloth draped on the lower part of the body while neriyathu is worn over a blouse and could be worn in either the traditional style with the neriyathum tucked inside the blouse, or in the modern style with the neriyathum worn over the left shoulder. It is worn by women from all communities of Kerala and is often referred only as "Kerala saree". The mundum neryathum for festive occasion has golden coloured borders or a broad zari border known as Kasavu, lending the costume another name of "Kasavu Saree".
mundum-neriyathum
KERALA CHRISTIAN COUPLE -OLD PAINTING
Syrian Christian lady, Kerala-
Muslim women additionally wore a white thattam (long head scarf that covered their lengthy hair). Hindu women wore a randam mundu (or utthareeyam) – a shorter and nicer mundu – that was thrown over their shoulder across the breasts on formal occasions or while travelling. On these latter occasions the Christian woman kept their Kavana (which is an embroidered uthareeyam) pinned to their Chatta.
MALABAR -KERALA -MUSLIM WOMAN
For the underwear woman tied a thaar or onnara; a handloom cotton cloth used to drape around the waist in a particular style, under the outer garment. They also wear a bodice which was the predecessor to the present day brassiere but served the same purpose.
By the 1970s the traditional attires were given way to the more modern costumes like saree, churdiar, blouses, tighter and shorter shirts, jeans, pants etc. in addition to a variety of undergarments
Muslim women's mudu or thuni is slightly differed from the borderless mundu of the women of other communities. Their "Kachithuni" too was white but came with bright color boarders. Later on some of them switched to the "Soorithuni" which had less brighter and narrower boarders. Few women used the "Chinai"mundu which was, more or less, a colored version of the Kachithuni.
The blouses of women of each of these communities differed. The Christian "Chatta" was more like their men's shirts and covered the waist. This could be half or full sleeve but invariably white.
The Muslim's "Pen Kuppayam" is a long coverall up to their waist. It was white or of light color; could be decorated with beadings and shall be full sleeve. A version of the "Penkuppayam"; with tiny flower or polka dot prints, become in fashion later on and this was called the "Pullikkuppayam".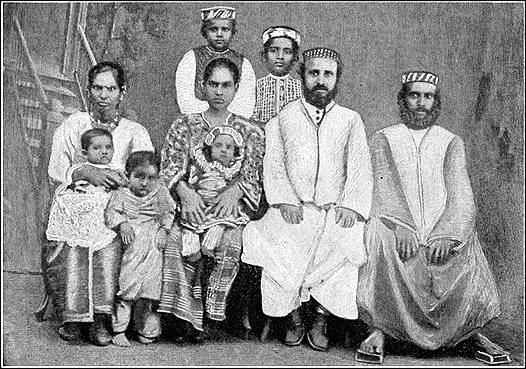 COCHIN JEWS -OLD PHOTO
A farm snap .. 1921
A boatsman taking people across the river .. 1921
A seminary snap ..
Rev Rense along with students, 1901.
Preparing thatched leaves from coconut palm leaves .. ola medayal . 1921.
Getting ready to go to the sea .. Beachside shot .. 1892 ..
Horse cart, very prestigious ride .. 1901..
A Muslim family, 1901
A theeyya lady taking a daybath in the stream , chira.
Nair girl well dressed ..
Girl from the cheruma tribe .. 1930
Nair women .. 1914
Syrian Christian family ..1912
Mohammedans, 1914.
Malabar Nair lady 1914.
Muslim women covering their face and walking on the streets ..
An affluent North Kerala family ..
Nair girls preparing for Thaalappoli .. 1914 ..
Malabar Christian ladies 1902 ..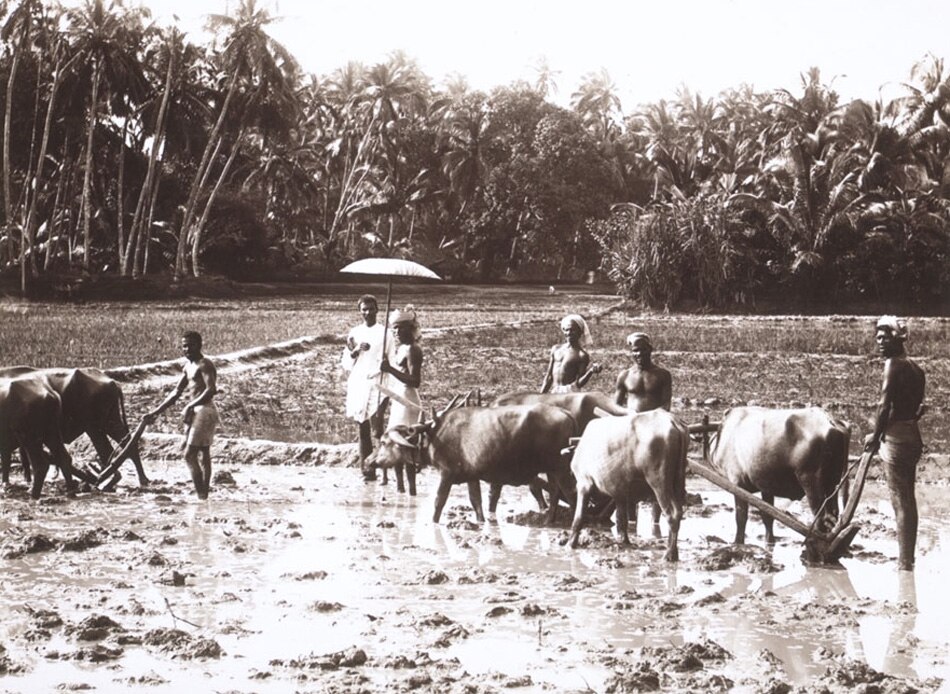 PLOWING RICE FIELD. 1901.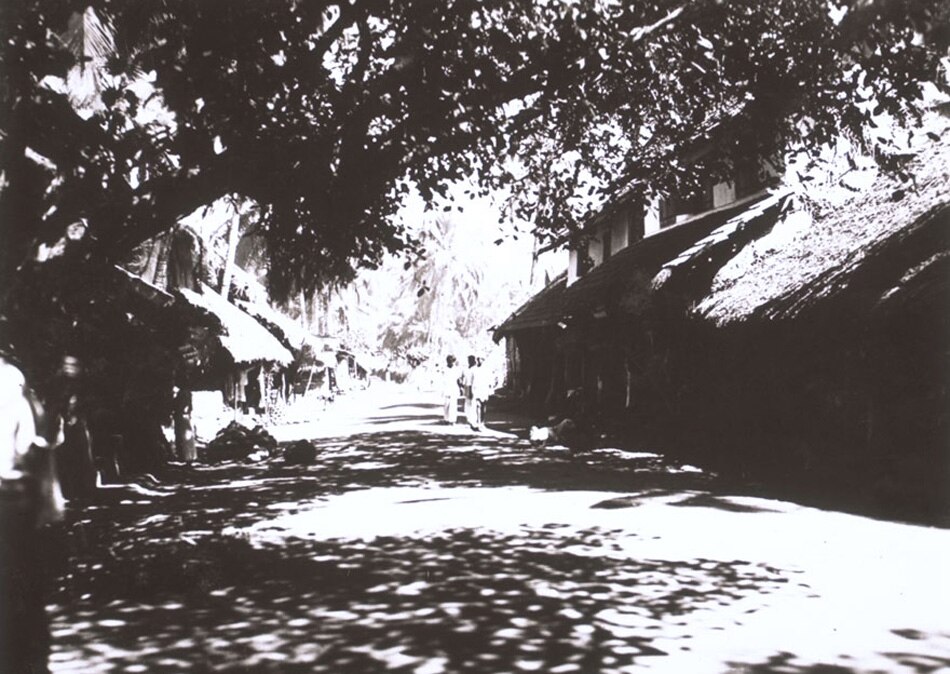 .ROAD 1926.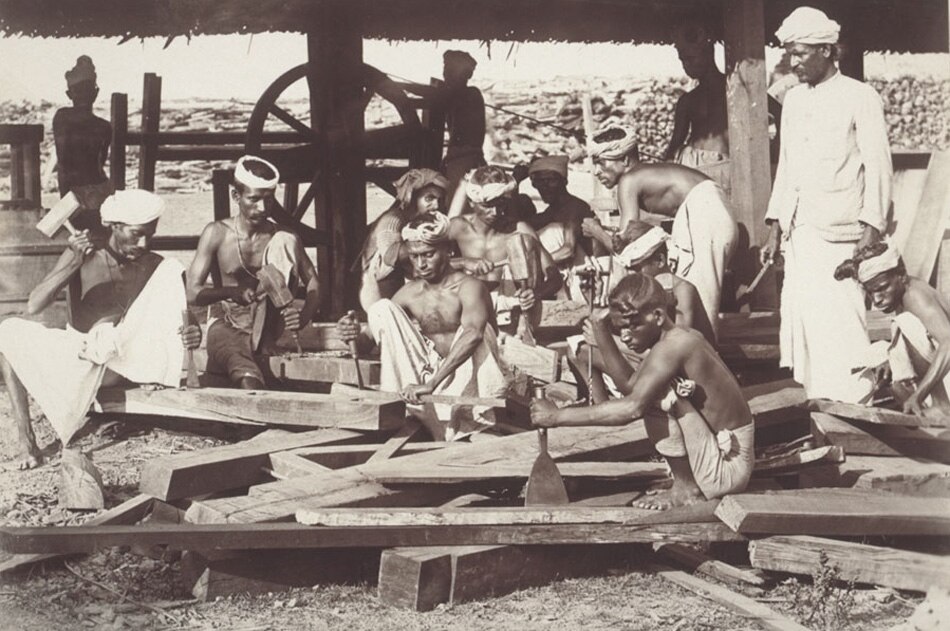 WOOD WORKERS ,CARPENTERS 31-7.1914.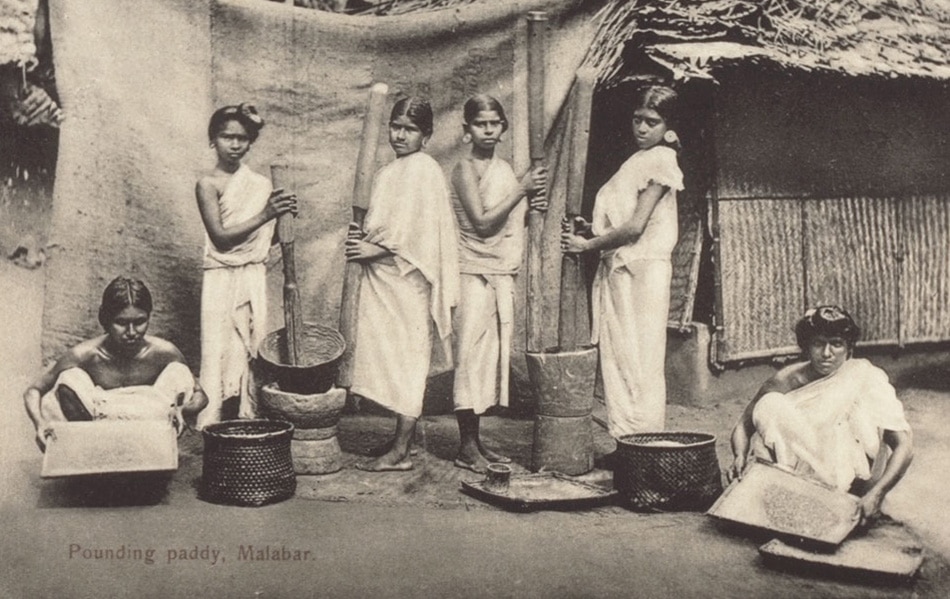 POUNDING PADDY,AND ASSOCIATED WORK .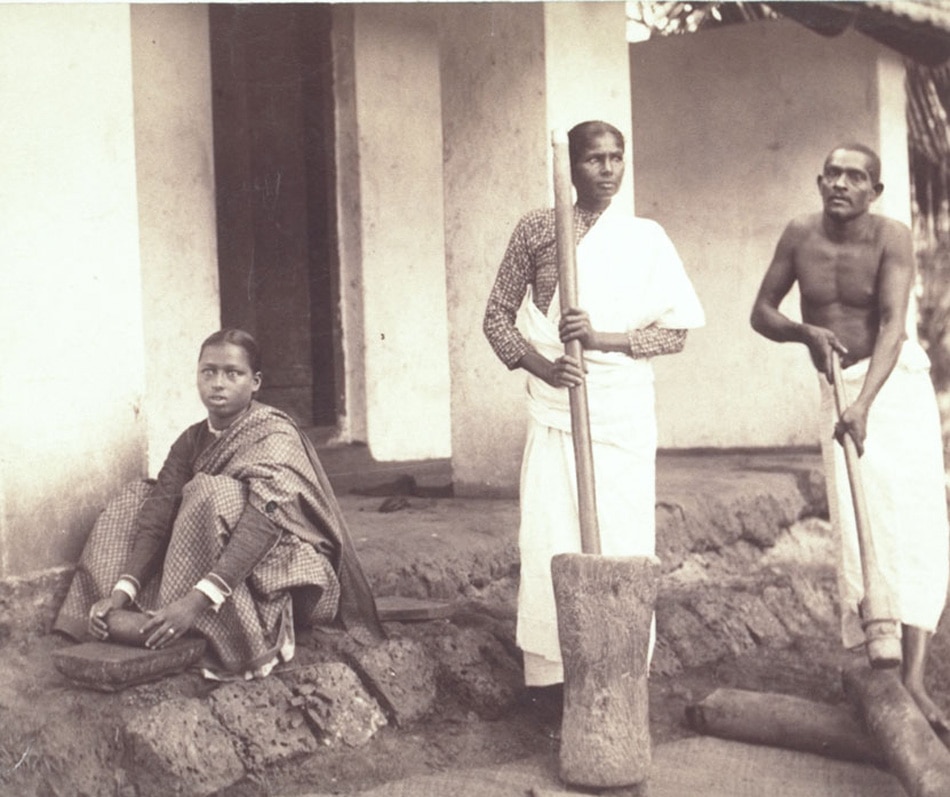 VARIOUS HOUSEHOLD WORK . 01.0.5.1902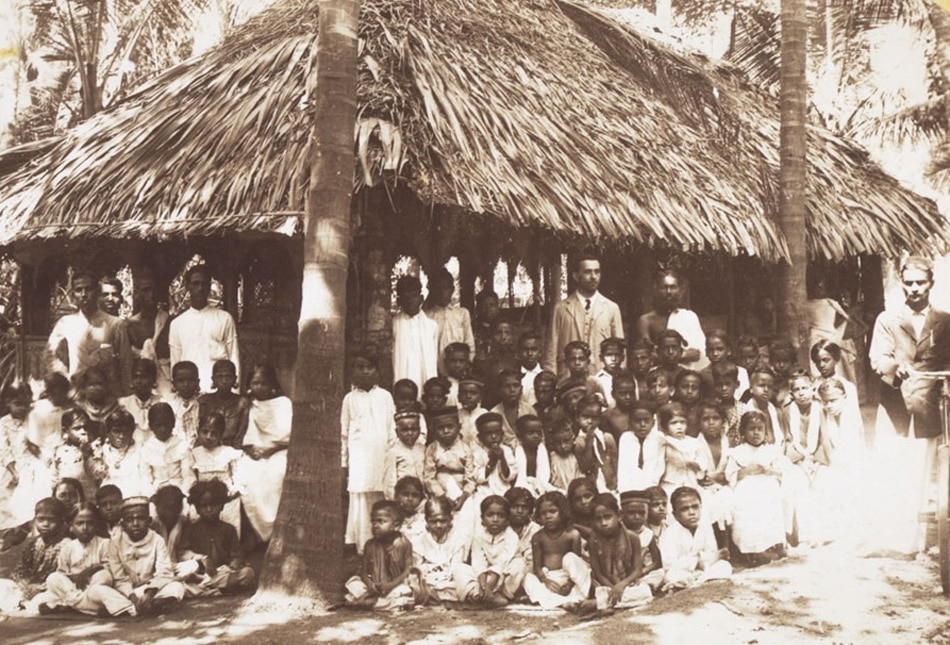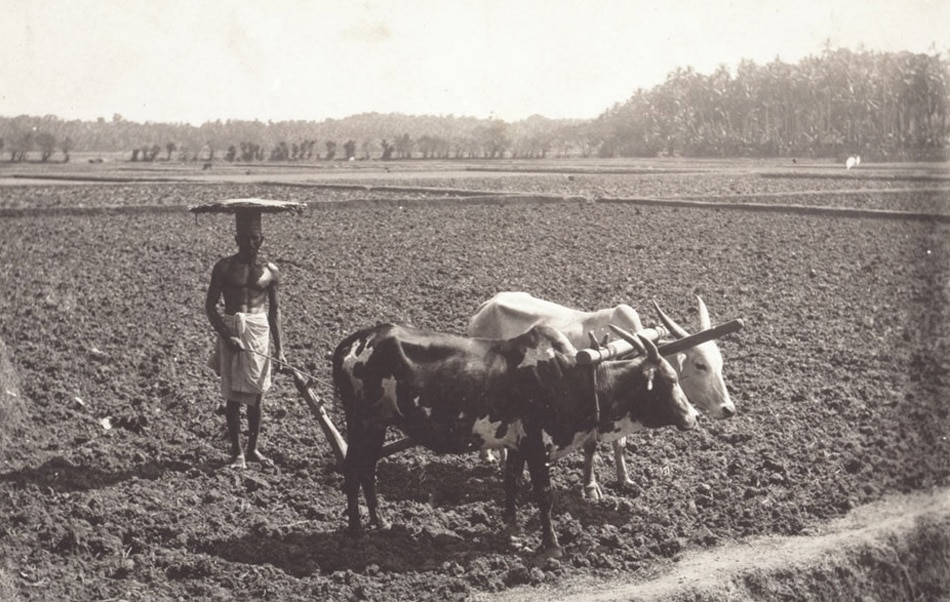 PLOWING USING OX . 31.05.1902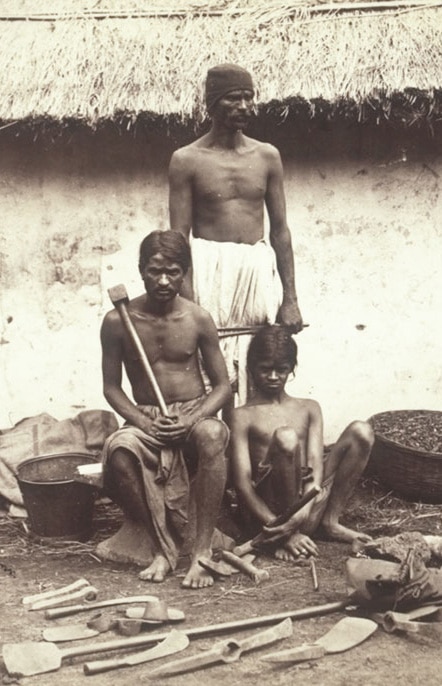 IRON SMITHS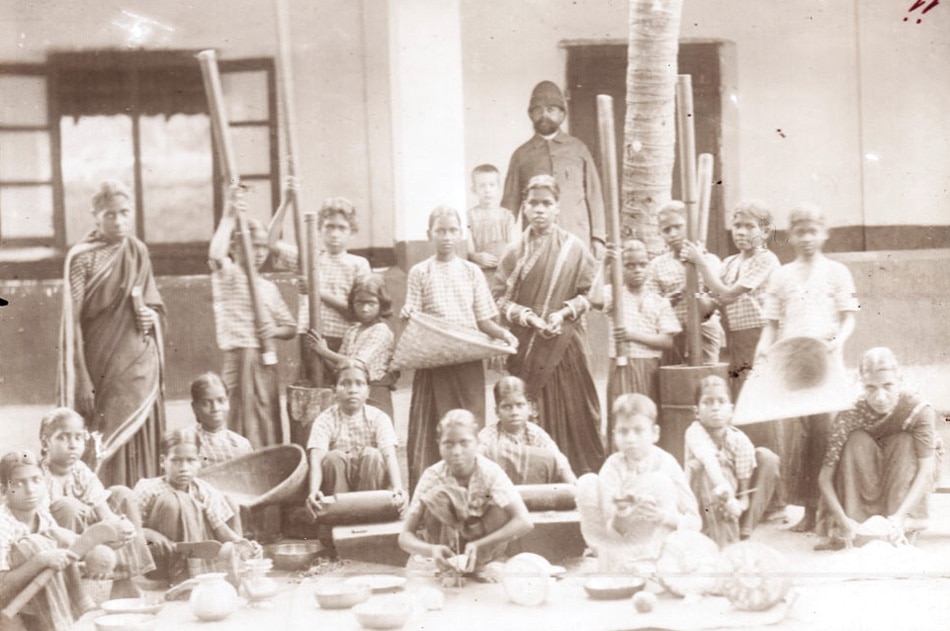 LEFT EXTREME GIRL BREAKING COCONUT AND OTHER KITCHEN WORK IN PROGRES. 31.07.1914.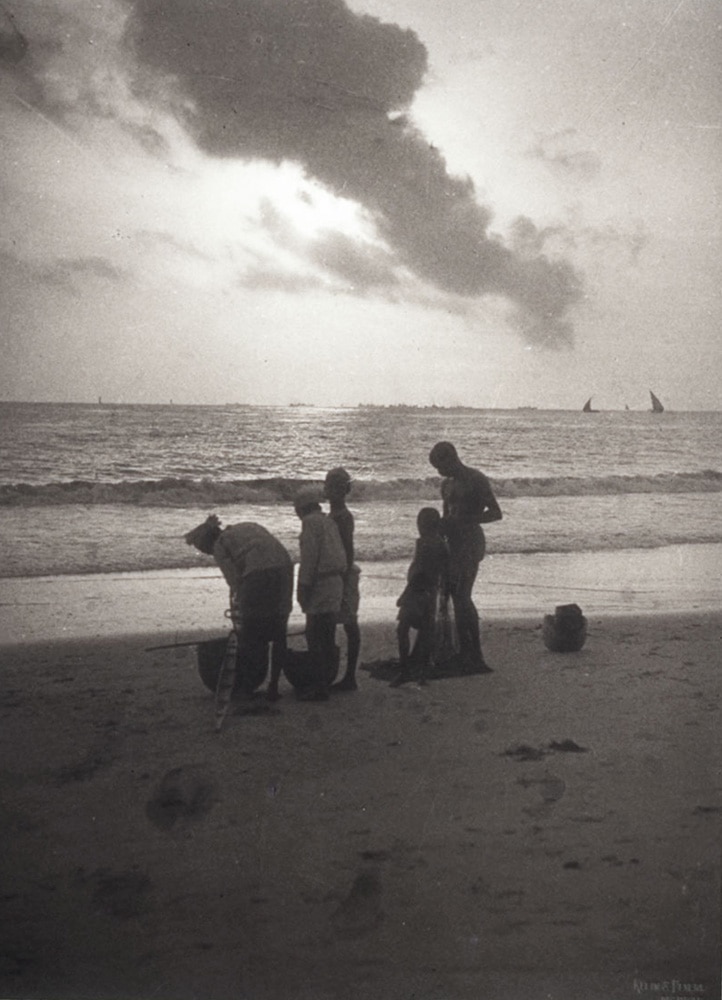 FISHER FOLK1921. മലബാര്‍ .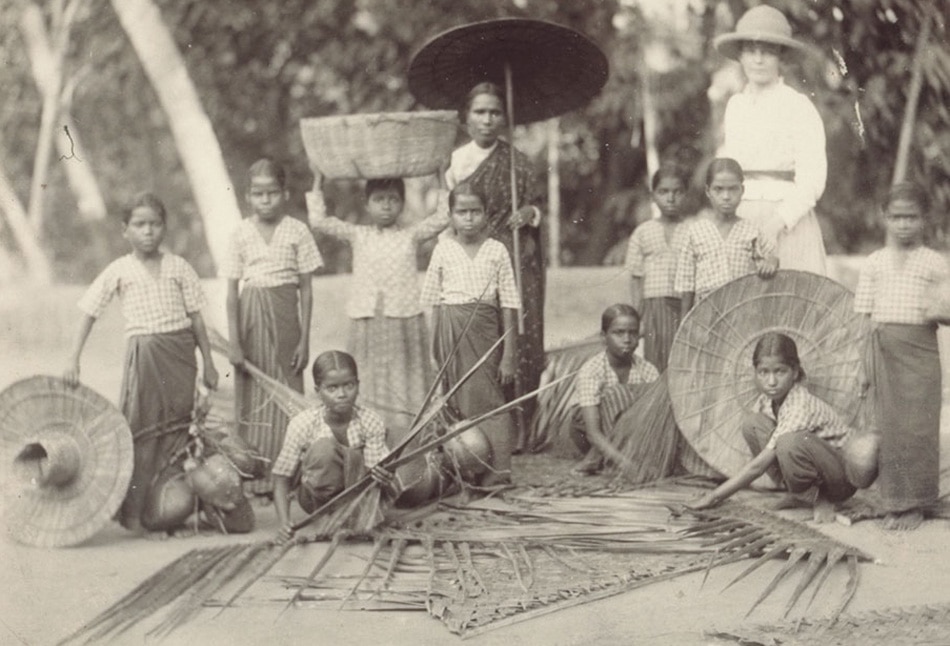 MAKING COCNUT LEAF THACHES FOR ROOFING
. 01.09.1921
AN ORDINARY WORKER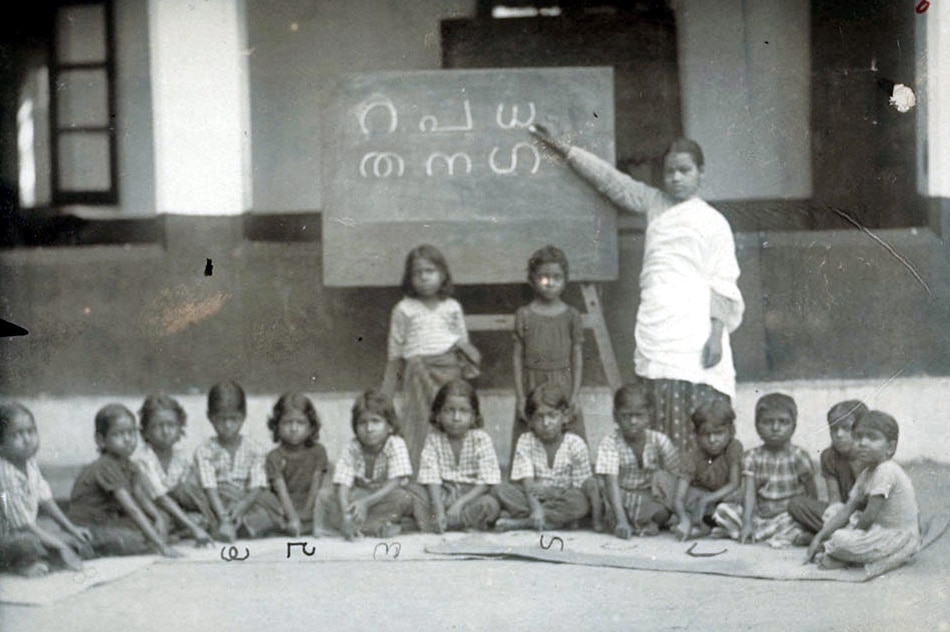 WRITING IN SAND . 31.05.1902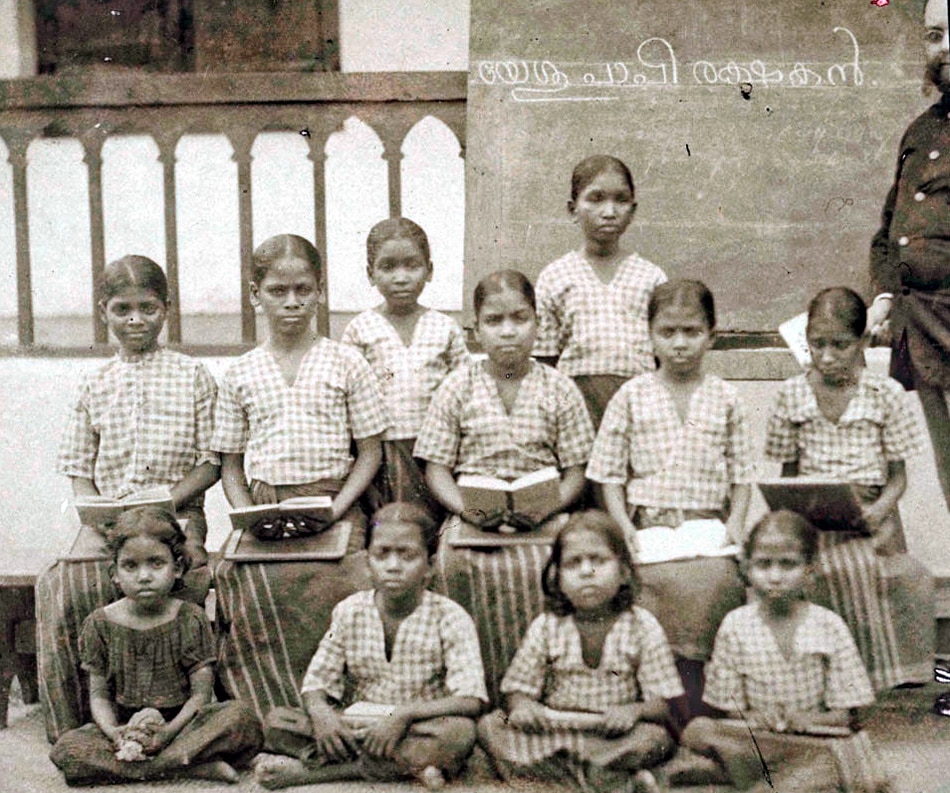 ,SUNDAY SCHOOL 31.07.1914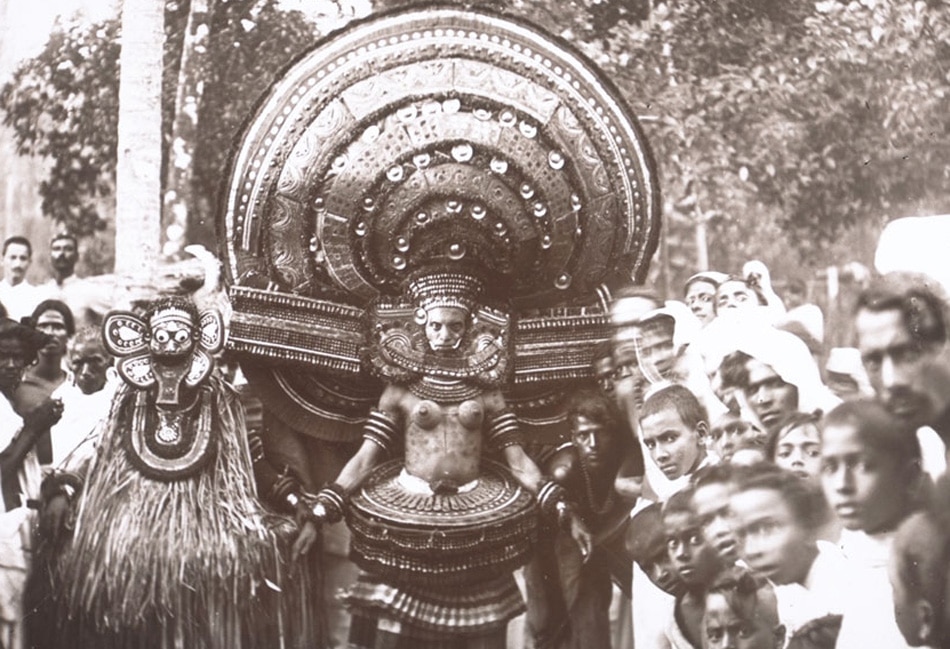 .THEYYAM 1901.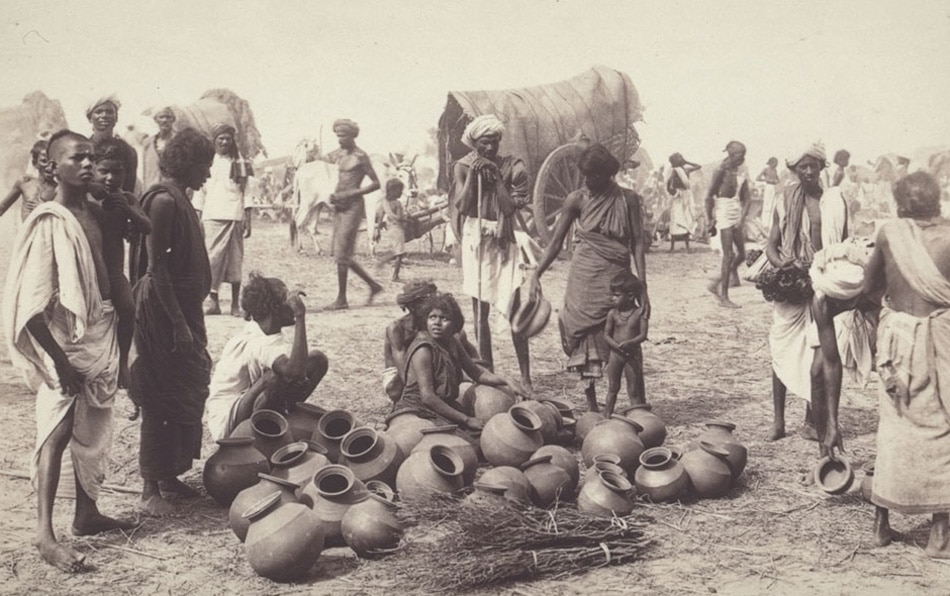 . 1914.
MUD POT SALE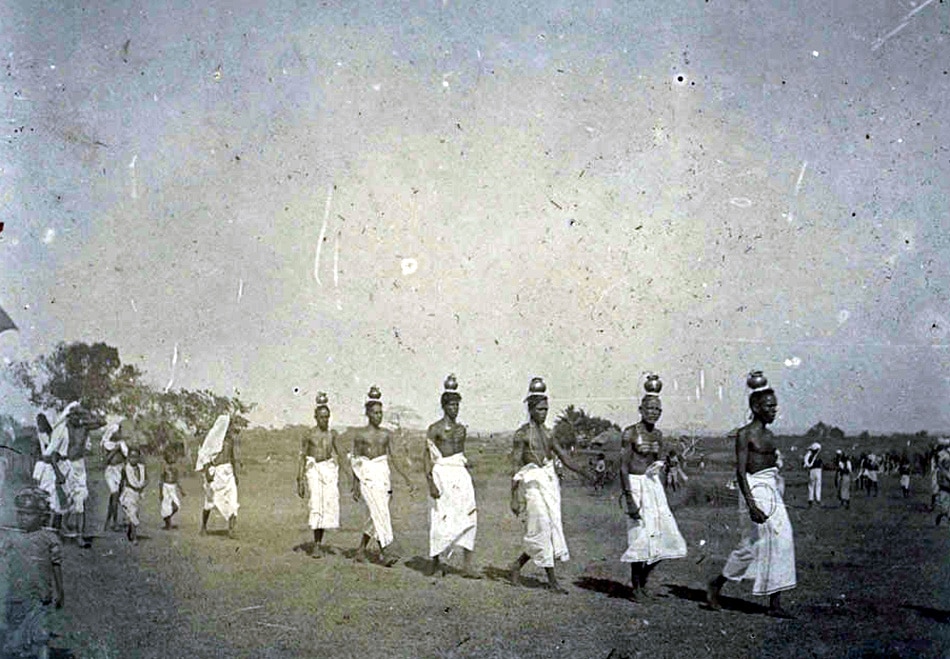 നേര്‍ച്ചയും കൊണ്ട് പോവുന്നവര്‍. 1902.
TO KANNADI PARAMPU TEMPLE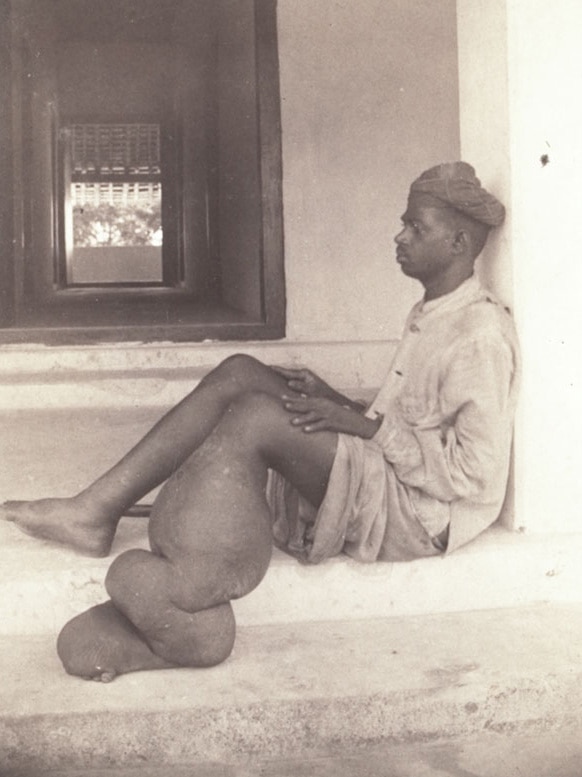 FILARIAL SWELLING OF LEG 1902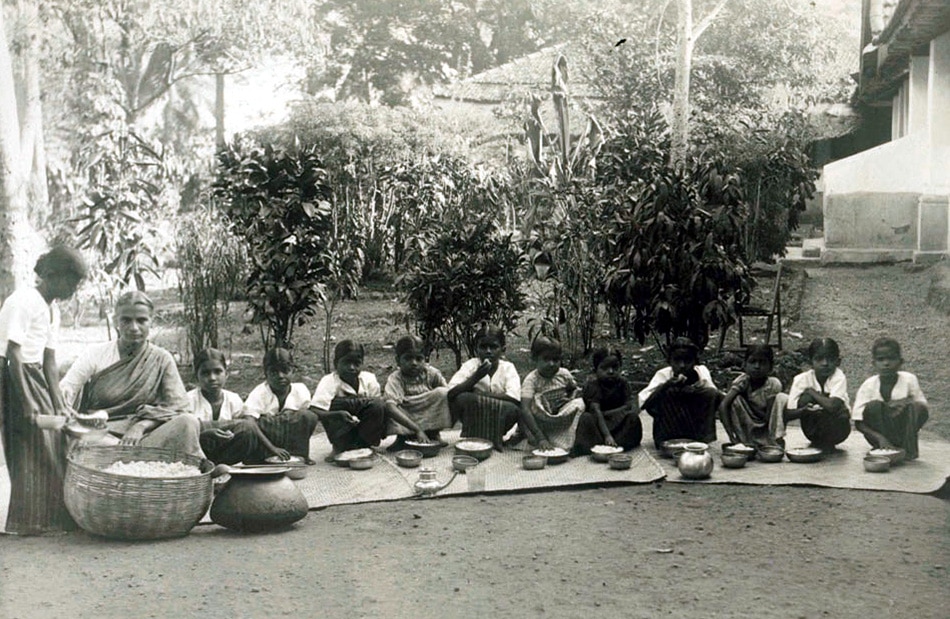 FEEDING CHILDREN-OCCASION?1914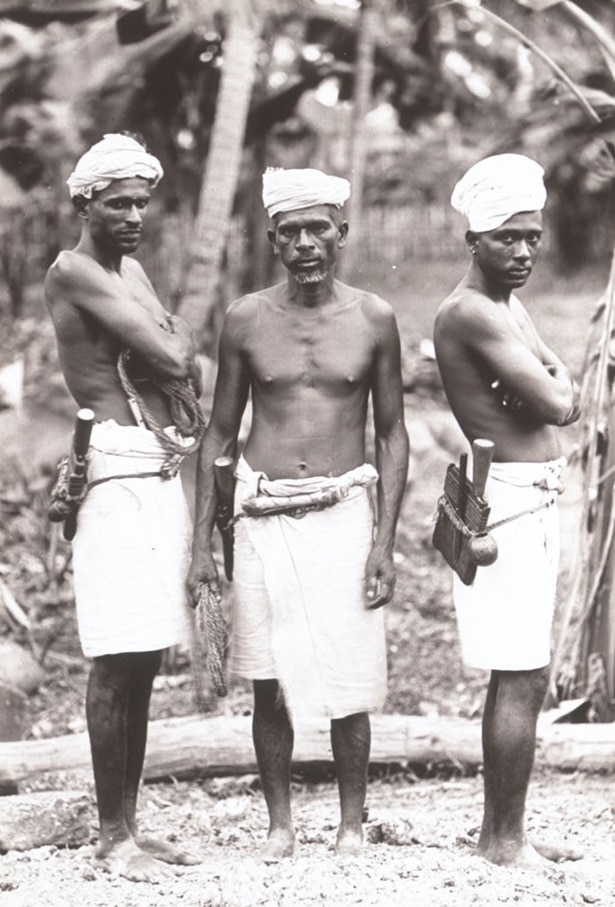 COCONUT TREE CLIMBERS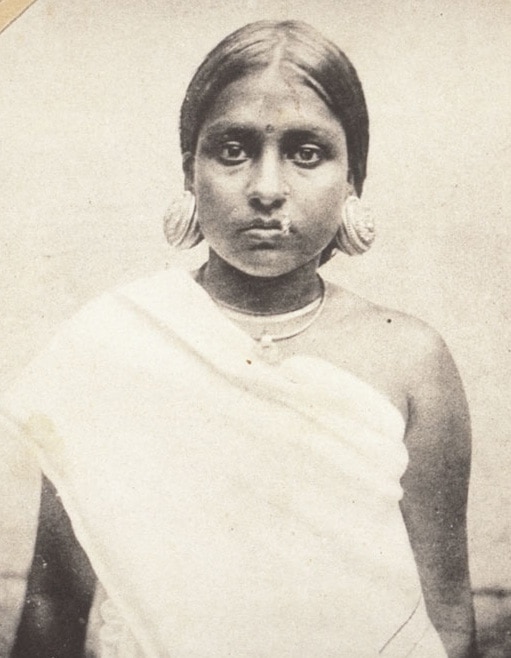 SEE THE BIG EAR RINGS MADE OF GOLD 1912. മലബാര്‍ .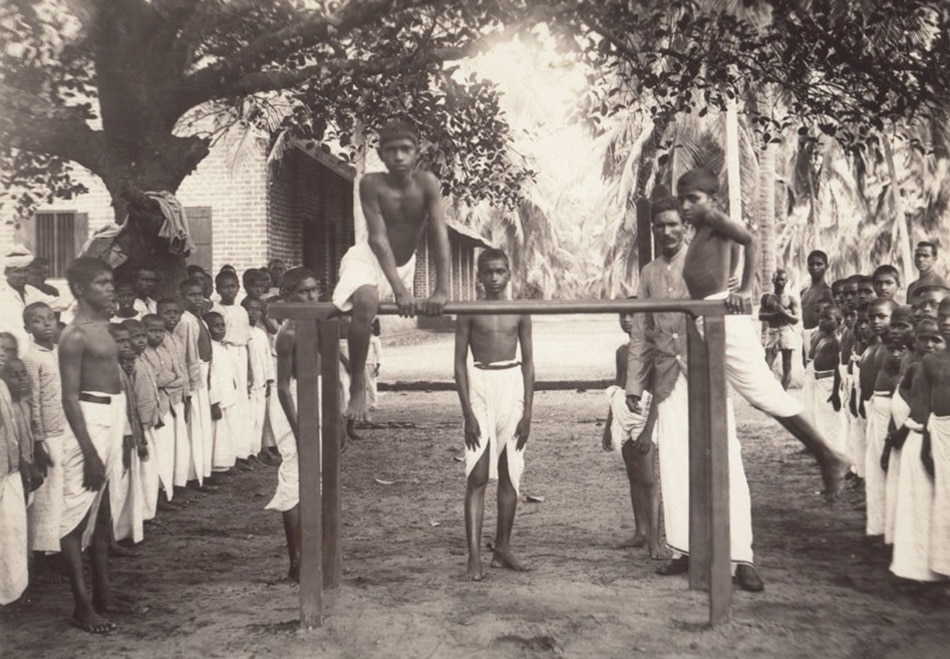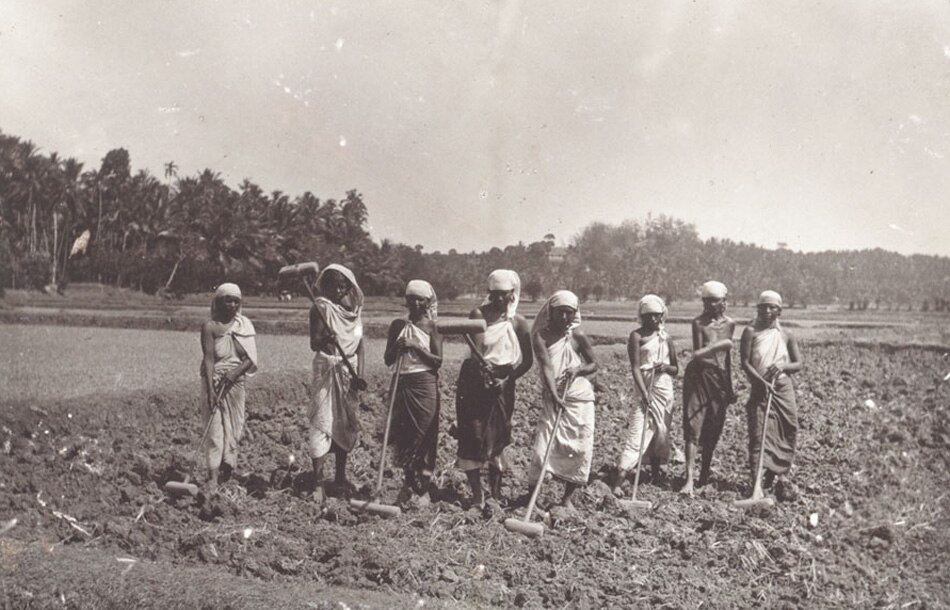 BREAKING THE MUD CAKES ON FARM ..
=========================================================================================================================================
PART 3. DRESSING STYLE OF MODERN KERALA
The younger and teen girls used to wear a pavada (long skirt touching the calf) with long blouses (jacket orkuppayam) both made from thick cotton fabrics (cheettithuni). The pavada would have a couple of lengthy straps stitched to it by which the garment shall be fastened around the girl's hip. Later on the girls came to use a stitched shimmy (waistcoat) as an additional undergarment.
No exotic fancy dress, but a garment that is worn daily by women through the length and breadth of India, 5½ metres of continuous fabric. Unstitched. Yet a perfect fit for every figure. And not as complicated to wear as you might suppose.
SARI DRESS [AFTER 1960]
HALF SARI DRESS -WHICH CAME BEFORE FULL SARI BECAME FASHION[1940 ]
Half Sari
With the advent of the North Indian fashion dress on a large scale in kerala, the half sari dress is seldom seen in any part of kerala. The half sari that was worn earlier consisted of a full skirt, short blouse and a davani (shawl) and sari blouse.
Mundu Set
The demand for the set mundu among the women of kerala contrary to general belief is in fact growing. It is a form of sari in two sets worn with a blouse. Used primarily on festival occasions like onam and vishu and for visiting temples, the set mundu is available in Sandal wood color or white color with silk border or colored border. It is worn in the same fashion of a sari, but without pleats in the front. Though initially intended as a ceremonial dresses in the ancient times it has however attained a position of being worn by both young and old on all occasions.
Now it is available in the same style of a sari as one piece and is known as Kerala Sari. It is worn in the same style of a sari with pleats in front. It has borders with thin or wide silk or ordinary colored ones. Along with the area of the silk border, the price of the sari too increases.
Sari
From very ancient times sari has been closely associated with the women of kerala and it still forms the major mode of dress even today. A 5 meter long cloth, It is worn together with a small blouse .It is however a tough job to learn to wear a sari in a proper manner and one needs to practice a lot.
Sari is the official dress in various ceremonies like wedding, engagement and during various festivals in kerala.
Kerala's sari market is now flooded with sari likeKancheepuram Silk, Banaras Silk. Sari decorated with traditional works, zardosi work, ariwork, Lukhnow work, sequins work, thread work, embroidery work.
Salwaar kameez
Though a north Indian dress the salwar kameez in kerala has become a craze among the younger generations. It's acceptance is to a large extent due to its unique and outstanding styles and convenience. The comfort that salwar kameez provides has made it so popular that it is worn on formal and non formal occasions.
In kerala tradition always played a prominent part in the acceptance of every form of modern dress circulating in the country.
Lehnga
Lehnga is steeped in tradition and its history can be traced to the mughal royalty. Considered the apt dress on ceremonial occasions and worn by people of royal blood in olden days, lehngas come in many different styles. Lehangas are glamorous and elaborate. Rich fabrics such as silk, organza, jamewars and brocades have been used lavishly in lehengas. The creations are inspired by the timeless traditional motifs and contemporary patterns. The colors are bright in hues of reds, oranges, maroons, and gold. Considered to be the most appropriate feminine dress lehengas are available in a variety of sizes. It has become so popular in kerala that lehanga has replaced the traditional sari among a large chunk of the younger generations. It is also considered to be the best wear during the day and evening time.
Short Kurtis and long kurtis
Though a late entrant to the kerala fashions scene, the kurtas have captured the imagination and fashion demands of a large portion of the younger feminine folk.
The cut of the Kurta provides room for air to flow between the garment and your skin and Kurtas often feature the long sleeves you need to cover-up after a bout of sunbathing. What sets the garment apart is often the embroidery. Zardozi, traditional gold and silver wire embroidery has been superseded by plain thread embroidery to give the under-stated, yet elegant look for the daytime. Chikankari is a lovely work, which involves intricate shadow type of embroidery done on white yarn. The Kurti is unlikely to die. Trends may change, chikankari work may be superseded by phulkari and the style may push the boundaries with ever more transparent tunics, but when it comes to comfort, style, and sheer wear ability there is little to beat the humble Tunic.
WEDDING WEAR
Hindu
The most common dress among the Hindu women is either a set and mundu or a colored sari. As the wedding day is considered one of the most important days of their life every effort is made to make this occasion truly memorable. Kanchepurum saris considered the finest in kerala is worn on this auspicious day Saris of other makes including those from silk, georgettes and crape are also worn. Bridal dresses presently come with Zari, embroidery, zardosi, sequence, cut work, mirror work, patchwork, pearl work, kasab and kundan that all add a touch of class and beauty to the the sari worn.
Christian
The bridal dress worn by the
Christian women
is peculiar in that it is different from the dress worn by the Hindus and Muslim women. A Christian woman wears a purely white sari with a white veil on their head symbolizing purity. Nowadays designer made bridal gowns are also rather popular. Bridal gowns are traditionally of a single color, depending on our culture., brides wear white or ivory gowns.
Muslim
Muslimwomen usually wear bright colored silk saris on their wedding days. The lehnga that was the traditional dress during the mughal period is also worn by a large number of Muslim women now. The dupatta is worn as a headdress along with this lehnga. This combination increases the visual beauty of the lehnga. The dupatta was made of a flimsy material and to give some more weight to the cloth, golden lace or tassels were attached to the ends.
Traditional Full Skirt and Long Blouse
Full skirt with long blouse was essentially a teenage dress of Kerala and Tamil Nadu. It is not seen very common now in cities and towns but usually worn by village girls.
The latest fashion of Kerala is full skirt with pleats and Kasavu Boarder and long blowse of Kasavu boarder with front or back open and is worn at special occations and festivals. Also silk materials with different bright colours are used for stitching custom made full skirt and blouse.
If the songs, `Pavada prayathil' and `Pavadai davaniyil', were to be written today, the lyrics would not be the same.
For, the pavada has almost vanished from the Malayali girl's wardrobe.
This pleated traditional dress has been replaced by jeans, trousers, salwar kurtas, midis and skirts.
In Kerala, only the `bold' wore the salwar kurta two decades ago. And then came the invasion of the electronic media and salwar kurtas found their way into the hearts of Malayali girls.
If you want to see Malayali girls in pattu pavada-blouse sets today, then you have to be invited to a wedding. Or you should visit a temple or wait for November 1 (Kerala Piravi Day).
The pavada has its western counterpart: the skirt. What had flowed down over the ankles during the Victorian era has, over the years, transformed itself to the midi, the
mini
and the micro skirts, all of progressively decreasing length. Micros and minis may be the rage in Indian metros, but Thiruvananthapuram is yet to catch up with this trend.
Traditional Half Saree
Unlike the saree or the salwar-kameez, the half-saree is very age-specific. Itexclusively belongs to
young women
and no woman past her teens would usually wear it.The half-saree marks a sartorial transition from girlhood to womanhood. It combines the impishness of a girl with the feminine grace of a young woman.That is one reason perhaps why south Indian filmmakers are rediscovering the half-saree, giving the garment a fresh lease of life.
Half Saree was very common among young girls of Kerala and Tamil Nadu. Full skirt, short blouse and a davani (shawl) constitutes this dress style.
It is considered to be originated in Tamil Nadu, but is very commonly used in Kerala till about 30 years back. Nowadays with all modern fashions half saree is almost completely disappeared among Kerala girls.

1980- ONWARDS
MODERN DRESSING STYLE EMERGED IN KERALA-
Due to vast travelling by Kerala folk, more and more international customs bought to Kerala around 1980,s. The dressing style is a mixture of various styles in India and abroad.
MEN
The wedding dress of a hindu male consists basically of a white mundu with a kasavu border and a silk jubba. However some among the hindus still prefer the seasoned Shirts for their weddings.
Christian
Among the Christians of kerala various wedding dresses are in vogue and no particular form of wear is common to all Christian denominations. The western Blazers and trousers, shirt and trousers and shirt and mundu are all generally worn.
Neither the Christian ,Hindu or Muslim religion in kerala prescribe any form of formal wear for their wedding.
Muslim
The wedding wear of a muslim man is not much different from the attire that he wears on formal occasions.These consists of white mundu and white shirt. However the younger generations may sometimes opt to go in for shervani and kurta.
HIGH FASHION
MEN
Trendy Wears
A trend is driven by demographics, lifestyle, technology -­ it moves
forward steadily and relentlessly. Trendy phenomenon ­ or fads - often seem to spring up overnight, burn intensely and then die out just as rapidly. "Trendy" looks good but generally does not fit into the pattern of people's lives.
Flowery pink shirts do not fit into the pattern of men's lives and hence, need to be classified as 'trendy. Checks and pinstripes are bowing out to colors, frill and funk. Men's wardrobes are resembling women's, with embroidered collars, patchwork pieces and retro prints."
Teenage boys and girls in kerala are taking to trendy fashions on a large scale. This is clearly visible in some of the top notch colleges in kerala especially in major cities like Ernakulam and Trivandrum.


Leather Wears
Though the leather wears are popular with the fashion minded and are worn occasionally, as a rule in kerala with a hot climate,
this form of wear is seldom selected. These high fashioned wears are ornamented now with sequins or appliqués. The intricate and soft finish of this product gives the appearance of a fine piece of fabric. The great benefit of the leather wears is that they now come in various colors including black, white, red, green, maroon, rust, chocolate, tan and deep purple.
Branded Wears
In the modern day world men prefer a wider range of party wear that includes the regular designer jeans,
crushed and printed tops, bow necks and slim fits. Even bright colored clothes are in. Since party clothes aren't to be worn more than a couple of times, the youngsters seem to prefer the alternate designer clothing despite it's higher price tag.. It is all about looking good in a combination of good looking clothes. Still those who go for quality will definitely opt for the branded ones. It's all a matter of being different; but there is nothing different about the same old tags and names.


HIGH FASHION
WOMEN
Trendy Wears
Skirts have returned back to the fashion scene in kerala
after a lapse of few years. These come with different styles, prints and is made of exclusively high priced fabrics. For those who have long legs go in for
mini
skirts and the full length wrap around skirts. Those who are on the bulkier side can opt for long flowing skirts with floral prints which are trendy and in-vogue.
The kerala fashion scene is witnessing a renewed interest in ethnic skirts with handwork - beadwork, embroideries, tie-and-dye, sequins, etc. The products used in these are georgettes, cottons, etc, all of which is easily available and that which fit perfectly with ones body shape.
Leather Wears
Leather wears are also becoming more and more popular with the high fashion
young women
of kerala these days.
The popular ones being the slim line skirts and cropped jacket that have multiple zips and buttons . Besides the pencil skirt the multi pannelled skirt fitted at the hips, is the look of the day. The oversized poncho or cape coat that comes with a soft rolled collar is also becoming popular now.
Branded Wears
Compared to the vast array of designer clothes available for men the selection of designer clothes for women is rather limited. Most shops prefer to
stock
these forms in smaller quantitities. To tide over this selection scarcity, the women prefer to go in for designer labels that are available in plenty. Presently a variety of sarees come with more embroidery works that were hither to not to be seen around. To coincide with the changing trends in saree additions, the present day crop of
designer blouses
also feature additional works that add to the beauty and image of the blouse. Though the price tag tends to be on the higher side designer dresses among salwar kameez, gagras also exhibit a general acceptance.
PART 4:
The Travancore Tribes AndCastes:

-

Click the links for detailes http://archive.org/stream/travancoretribes031607mbp#page/n5/mode/2up

[1] mala pulayar:-click and see

http://archive.org/stream/travancoretribes031607mbp#page/n37/mode/2up

[2] urali tribe;male and female:- click and see:-

http://archive.org/stream/travancoretribes031607mbp#page/n43/mode/2up

[3]MUTHUVAN TRIBE;MALE AND FEMALE:- CLICK AND SEE:-

http://archive.org/stream/travancoretribes031607mbp#page/n51/mode/2up



[4]PAALIYAN TRIBE;MALE AND FEMALE:-CLICK AND SEE:-http://archive.org/stream/travancoretribes031607mbp#page/n57/mode/2up


[5] MALAPANTAARAM TRIBE:- CLICK AND SEE:-

http://archive.org/stream/travancoretribes031607mbp#page/n65/mode/2up


[6]:-KAANIKKAAR TRIBE:-CLIK AND SEE:-

http://archive.org/stream/travancoretribes031607mbp#page/n71/mode/2up

[7]:-MANNAAN TRIBE:-CLICK AND SEE:-

http://archive.org/stream/travancoretribes031607mbp#page/n71/mode/2up

[8]:-URAALI TRIBE:-CLICK AND SEE:-

http://archive.org/stream/travancoretribes031607mbp#page/n81/mode/2up


[9]VISHAVAN TRIBE:- CLICK AND SEE:-

http://archive.org/stream/travancoretribes031607mbp#page/n91/mode/2up


[10]:-MALAVETAN TRIBE:-CLICK AND SEE:-

http://archive.org/stream/travancoretribes031607mbp#page/n95/mode/2up


[11]:-MALA PULAYAN TRIBE :-CLICK AND SEE:-

http://archive.org/stream/travancoretribes031607mbp#page/n99/mode/2up


[12]:-KAANA PULAYAN TRIBE:- CLICK AND SEE:-

http://archive.org/stream/travancoretribes031607mbp#page/n105/mode/2up


[13]SAAMBAVAR TRIBE :-CLICK AND SEE:-

http://archive.org/stream/travancoretribes031607mbp#page/n109/mode/2up


[14]MEGAALITHIC DOLMEN STONE:-@ ANJANAAD:- CLICK AND SEE:-

http://archive.org/stream/travancoretribes031607mbp#page/n123/mode/2up


[15]:-SEMI NAKED- THANTHA PULAYAN TRIBE:- CLICK AND SEE:-

http://archive.org/stream/travancoretribes031607mbp#page/n137/mode/2up


[16] :-MALA VETAN TRIBE :- CLICK AND SEE:-

http://archive.org/stream/travancoretribes031607mbp#page/n141/mode/2up


[17] :-MAKING FIRE BY STONE:- CLICK AND SEE:-

http://archive.org/stream/travancoretribes031607mbp#page/n153/mode/2up


[18]:-TREE TOP HOUSE OF URAALI TRIBE:- CLICK AND SEE:-

http://archive.org/stream/travancoretribes031607mbp#page/n157/mode/2up


[19]:- KAANA PULAYAN'S MUD HUT:-CLICK AND SEE:-

http://archive.org/stream/travancoretribes031607mbp#page/n161/mode/2up


[20]:- BOW AND ARROW AND OTHER WEAPONS:- CLICK AND SEE:

-http://archive.org/stream
/travancoretribes031607mbp#page/n165/mode/2up

Join and like Face book link:

Kerala Old Photos And Heritage

Join Kannur - Cannannur Walk

Other Blog links on Calicut

A walk back to Calicut 11 Mavoor The Kozhikode (Calicut) Beach with photos Old Mosques in Calicut, Mishkal Masjid, Kuttichira Calicut City Map 16th Century Calicut -Rare photos

തളി അമ്പലത്തിന്റെ ലിങ്ക് ഇവിടെ

ചിത്രങ്ങൾ കഥ പറയുമ്പോൾChevayur Leprosy Hospital

Kozhikode Railway Station will celebrate its 125 birthday

THALI TEMPLE,A PHOTO HISTORY

Mananchira Square

Maps of Malabar Cost

പൂർവികന്മാരുടെ അവസ്ഥ ഇങ്ങിനെയൊക്കെ ... - kalli valli

അന്ധവിശ്വാസപരമായ സ്വാധീനം-മലബാര്‍ മാന്വല്‍-വില്യം ലോഗന്‍

Kerala old Photos part 2. 1850 മുതല്‍ 1937 മലബാറിലെ ജീവിതവും കാലവും സ്ഥലവും എങ്ങനെയായിരുന്നുവെന്ന് കാട്ടിത്തരുന്ന ചിത്രങ്ങള്‍ .